Top 5 Reviews And A Complete Guide To Find The Best Crib Mattress
One of the significant items to buy for your baby is a crib. However, you need to accompany it with a mattress. It is vital to give your little angel tons of peaceful slumber and needs proper consideration. Here is a quick cure for crib mattress reviews including top five products this year.
*Below, you'll find our more detailed reviews, but you can also click the links above to see current prices or read customer reviews on Amazon.
WHAT TYPE IS BEST FOR A BABY?
When it comes to picking a crib mattress for your infant nursery, you will find yourself confronted with an overwhelming number of options. Today's parents have a lot of choices for baby products.
You have to take a firm stand when picking a crib mattress. There is a need for you to decide whether to get your child a foam, spring or organic mattress.
Just like when picking other stuff for your baby, you might find yourself facing a few hurdles. There exists some significant difference between the various mattress options for a baby crib. We are going to examine the different types of crib mattresses to help you make a decision on which one to buy for your child.
Foam baby crib mattress
This kind of mattress is made of polyurethane. It is the most popular choice for parents since it is way cheaper. Just like others, foam mattresses come in a variety of depth. The most popular foam mattresses range from three to six inches.
These mattresses are also the lightest weighing between seven to eleven pounds. It makes cleaning the baby mess and changing sheets quite easy. You need to put in mind the times you will be doing this task.
INNERSPRING CRIB MATTRESS
Innerspring mattresses are more expensive than foam mattresses. These mattresses have a firm level of support which is provided by the springs. It is ideal for orthopedic support and baby safety.
Since innerspring is a popular choice as a full-size mattress, many parents tend to stick with what they have experience with for their baby. This mattress has about 50-200 coils inside to give support and comfort.
The more springs a mattress has, the higher it will cost. Alternatively, you can determine the firmness of this mattress by checking the wire thickness. It is always in the product description.
A small gauge means a stronger thicker wire which is more firm. To get the best result, look for one with more than 150 coils with a gauge of 15.5 or lower.
ORGANIC CRIB MATTRESS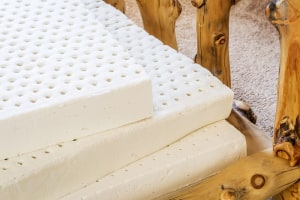 In regards to price, this kind of crib mattress is usually more expensive than innerspring and foam mattresses. However, there is a good reason for the high price. Organic crib mattresses are the healthiest available since they are made from 100 percent organic cotton material.
It eliminates potentially harmful allergens and chemical. In comparison, to the different materials used in foam mattresses, some might be detrimental to your baby. It has a likelihood of happening especially if the child is prone to allergies.
Putting in mind that your baby will be in close contact with the mattress surface daily for several years, it is better to go for those made with polyurethane.
WHAT TO LOOK FOR IN A CRIB MATTRESS
FIRM FLAT SURFACE
According to Consumer Product Safety Commission (CPSC) standards, a better crib mattress has to be with a firm flat surface. There should not be any gaps bigger than two fingers between the crib and the mattress.
GREENGUARD SELECT CERTIFIED
The Greenguard Environment Institute came up with a product certification criteria is useful in testing for harmful off-gassing. This certification makes sure that the crib mattress meets world standards for low emission of volatile organic compounds.
Therefore, look for a crib mattress certified by GREENGUARD SELECT standards.
NO CHEMICAL FIRE RETARDANTS
A good crib mattress should meet the flame standards; it should not have any chemical fire retardants. Natural alternatives exist including silica and baking soda which are safer fire retardant materials.
Alternatively, you can choose a crib mattress which passes fire regulations minus the need for flame retardants.
WATER, DUST, MITE AND BED BUG PROOF
A baby needs a quality mattress which is of high quality with non-toxic waterproofing. It is very hard to penetrate by bedbugs and dust mites. Plastic makes a perfect material to provide waterproofing.
It is also the only nontoxic substance of low-density polyethylene food-grade for covering crib mattress. Polyethylene has a simple molecular structure which requires no toxic chemical additives. It is considered the safest and most environmentally friendly plastic material around.
GOOD WARRANTY
To ensure quality, makers of crib mattresses offer a guarantee on their products. Therefore, when picking one for your baby, a good warranty ensures the bed will last in your family.
TIPS ON CHOOSING THE BEST CRIB MATTRESS
FIRMNESS
You have to check the firmness of the crib mattress you wish to buy for your baby. Kids need a firm bed because they cannot move themselves, unlike adults. A soft mattress might be dangerous as the baby can sink into it getting suffocated.
One way of determining the firmness of the crib mattress is to give it a little push down to check how deep your hand goes.
LIGHTWEIGHT
You will have to reach in when lifting the mattress to change the crib sheets with the banning of the drop-side crib.
It was done by CPSC in June 2011 due to a high number of baby strangulation and suffocation.
There is no more lifting of one side of the crib for easier accessibility. That is why a lighter mattress is a good option.
MATTRESS COVER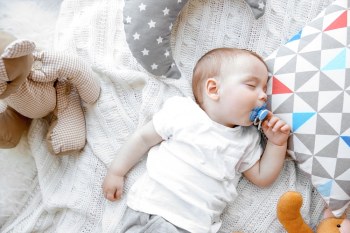 When buying a crib mattress, you also need to give consideration to the cover. Crib mattress covers come in different layers. There are those with multiple layers and others with a single layer.
Some come with an antimicrobial coating to help in reducing germs which might accumulate on the crib mattress. These are likely to come from things like baby urine or spittle.
A mattress with multilayers tends to last much longer. You should also find out if the crib mattress is sealed well. One without sharp edges is a better choice. Avoid exposing your little angel to any risks of injury.
BUDGET
There are many baby crib mattress on the market. Before you hit the market, have a budget in mind. You have to ensure that you purchase the best product for your baby which fits your budget.
Take time to do enough research whether at the local mall or online. Do research and make comparisons on the offers available before making a final decision.
*Below, you'll find our more detailed reviews, but you can also click the links above to see current prices or read customer reviews on Amazon.
Top 5 Best Crib Mattress Reviews in 2018
1 - SERTA TRANQUILITY ECO CRIB MATTRESS
This mattress will give your growing baby a secure, safe and stable sleep surface. The Serta Tranquility mattress has 120 innerspring coils which are heavy duty. It is to offer long life firmness with air vents for keeping the mattress fresh.
It also has a dual sided design which is durable to allow years of usage. You will just have to turn it over as your baby grows because it is hard working on all sides. One offers the perfect firmness for the baby well as the other provides a natural cotton layer ideal for toddlers.
Serta has been the market leader with its baby mattress innovations and technology which deliver high-quality craftsmanship with an eye for detail. All their products pass the GREENGUARD Gold Certification to meet all the standards set by Environmental Institute.
The mattress is safe for your baby since it exceeds all lead, flammability, CPSIA and phthalate tests. Further, it does not have toxic fire retardants. Instead, it comes with natural cotton fire protection wrap Air vents to offer your baby added freshness.
17%
Serta Tranquility Eco Firm Crib and Toddler Mattress
120 heavy duty innerspring coils Full perimeter border wire Ortho-insulated layer for support. Dimensions: 52" x 27.5" x 6"
Convoluted layers for comfort Naturally blended cotton layer on toddler side for extra comfort Waterproof vinyl cover resists moisture and stains
GREENGUARD Gold certified: recognizes products with low chemical emissions, contributing to improved indoor air quality Made with CertiPUR-US approved foams, which are made without PBDE flame retardants, mercury, lead and other heavy metals
Meets or exceeds flammability, lead, phthalate and CPSIA testing and does not contain toxic fire retardants Natural cotton fire protection wrap Air vents for added freshness
This premium crib mattress is finished with square corners to help with a secure fit inside the crib
Last update on 2018-01-17 at 21:54 PST - Details
2 - SAFETY 1ST HEAVENLY DREAMS CRIB MATTRESS
Set your baby down on this lightweight, firm and waterproof mattress to have a fantastic night filled with pleasant dreams. It comes with a vinyl sleeping surface free of lead and phthalates. The Safety 1st Heavenly Baby crib mattress has a hypoallergenic surface.
This mattress has a sturdy cover which is resistant to tear, odors and stains. It has thermo-bonded fiber cores of high density to offer a firm and long lasting use. With GREENGUARD certification, the mattress meets the standards for low emissions of chemicals.
You will sleep assured that your baby is tucked on a safe and comfy bed. The mattress is 100% made of polyester and has no springs. It does not use chemicals which are potentially harmful thus meeting federal flammability standards 16 CFR 1633.
6%
Last update on 2018-01-17 at 21:54 PST - Details
3 - MILLIARD HYPOALLERGIC BABY CRIB MATTRESS
The Milliard foam crib mattress is a combination of support and comfort for your baby. It promotes a more restful sleep and healthier living for your little angel. Your child will be able to sleep better with less tossing and turning on this unique premium foam mattress.
It is constructed of 5.5-inch luxurious foam of high quality and comes with a removable waterproof cover.
This mattress is naturally hypoallergic, resistant to allergens, bacteria, molds and dust mites. It is also antimicrobial.
The Milliard crib mattress is made to give a maximum flow of air helping to regulate sleep temperature for the baby.it is made using unique technology to help enhance circulation of air and distribution of weight to give your child a more restful sleeping experience.
CertiPUR-US® certified this 5.5-inch foam mattress is made to give your baby superior comfort. It has specially designed contours to help your child get relief from aches, stress and muscle pain.
The mattress measures 27.5" x52"x5.5" and is made with high-density construction to enable it not to lose its shape.
Milliard Crib Mattress and Toddler Bed Mattress | Hypoallergenic + Waterproof Encasement | 27.5"x52"x5.5"
The Milliard Crib Mattress uses a unique blend of foam to create the perfect combination of comfort and safety for babies and toddlers
Say goodbye to uncomfortable spring mattresses and cheap quality synthetic blends.
The reinforced mattress encasement is waterproof on the top and sides, but allows air and heat to ventilate on the bottom. The encasement backside is made from anti-flame materials without any chemicals.
The mattress meets all fire safety regulations by using an inner fiberglass lining that is free of chemicals and toxins.
Milliard Foam is CertiPUR-US® certified. Measures: 52" x 27.5" x 5.5".
Last update on 2018-01-17 at 21:54 PST - Details
4 - DREAM ON ME 3" PLAYARD CRIB MATTRESS
Get your baby an inviting and comfy environment for playtime. The Dream On Me Playard mattress is 37.5" x25.5"x3" with four 90 degree corners. It is constructed in the USA with high-quality materials and artistry.
The mattress is non-allergic and comes with an anti-bacterial waterproof cover which wipes clean with water and mild soap. It is helpful in preventing mildew, mold, and odors. The mattress meets federal standards for flammability standard 16 – CFR.
This mattress is 90 percent foam and 10 percent vinyl. It is recommended that you use this mattress when it tightly fits in the play yard. Make sure to leave no gaps between the mattress and side walls of the play yard.
Dream On Me 3" Playard Mattress, White
Antibacterial, waterproof lock stitched binding helps prevent mold, mildew and odor from seeping inside like cotton binding allows
Dimensions: 37.5" x 25.5" x 3"
Reinforced- waterproof cover and binding resist liquids and stains
3" playard mattress
Waterproof cover
Last update on 2018-01-17 at 21:54 PST - Details
5 - GRACO PREMIUM FOAM CRIB MATTRESS
This mattress can make a perfect match for your child. Graco Premium crib mattress is designed to fit any standard baby or toddler crib. It is shipped compressed in a lightweight box making it easy to move around with.
On opening the box, the mattress begins to expand from its protective packaging. Full expansion might vary but usually takes about 48 hours if put in a warm well-ventilated area.
This mattress is of high quality breathable which maximizes air flow from your little one. It helps to get the baby to sleep in an instant. It has a washable and removable cover plus a water-resistant lining to keep your baby dry and clean.
The mattress is made of anti-static and anti-microbial plus being free from phthalates and lead for the safety of your baby. It will give you peace of mind. Graco crib mattress also meets all federal flammability standards.
Graco Premium Foam Crib and Toddler Bed Mattress
Mattress ships compressed in a small, lightweight and easy to carry box, once mattress is removed from box and unpackaged, it will start its expansion process
Please allow at least 72 hours for mattress to expand to its full size (actual expansion time may vary)
Features a water-resistant inner-lining to help keep your baby clean and dry
Anti-static and anti-microbial, meets federal flammability standards; free of phthalates and lead for your child's safety
6 year limited crib mattress warranty
Last update on 2018-01-17 at 21:54 PST - Details
Conclusion
Well, it is a tough decision to make here. It is not that easy to pick the best crib mattress from the reviews. All mattresses have good reviews and ratings.
To make the best pick from the five best crib mattress reviews in 2018, we have settled for Serta Tranquility Eco firm crib mattress. This mattress with innerspring coils has all that a baby need for a comfortable night.
It passes all standards including GREENGUARD Gold certification and CertiPUR-US. You can use this mattress on both sides each ideal for toddlers and babies. You will use it as your child grows.
It is not that the other choices do not make the cut. This mattress would surpass all that a mother could ever wish for a great night's sleep for their baby.
When it comes for you to pick the best crib mattress for your child, you need to consider all factors we have given above. What works for you might not give the same results to another. Hopefully, these crib mattress reviews will be helpful in picking the best product for your baby.
Love this Post? Help Us Spread the Word